I love the Zones of Regulation! The curriculum has taught me so much about regulation and the tools have helped so many of my patients engage in speech and language treatment! Here are my favorites.
Zooey Weighted Lap Buddy
A "weighted lap buddy" is like a small weighted blanket in the form of a stuffed animal. These help kids who have trouble sitting in their seats, kids who feel nervous, or even just kids who love stuffed animals! You can find weighted lap buddies for $40 – $50 on Amazon, but I wanted to make my lap buddy look like my speech therapy dog, Zooey, who is a Basset Hound/Husky/Great Pyrenees/Black Lab mix. Luckily she's tricolored so it was easy to find a Burmese Mountain dog stuffy ($29.99) with her coloring. I bought blue eyes ($5.19) to match Zooey's. To add weight I bought 2 pounds of aquarium pebbles (which will stand-up to possible disinfectant getting through all the stuffing and cost $10.99) and baby pants with feet ($7.99). So in total I spent about $55 on my personalized lap buddy and it was totally worth it!
Once all the pieces arrived I took the stuffing out of the dog's head to un-attach the brown eyes and attach the blue ones. Then I re-stuffed the dog's head. I then took apart the seam at the dog's back and removed some stuffing. I filled each baby pants with pebbles and then sewed them together at their waists. The hardest part was squishing the feet of the pants (with pebbles in them) into each leg in the stuffy. I think 1/8th of the pebbles ended up in each leg and 1/2 ended up in the body. I then re-stuffed the stuffy and re-sewed the seam on her back.
The kids love this lap buddy! Zooey was a little scared of it (maybe it looks too much like her?), but she's warming up to it. I have a couple kids who have used the lap buddy during their evaluations and it helped them more than any of my other zones tools!
Wiggle Cushions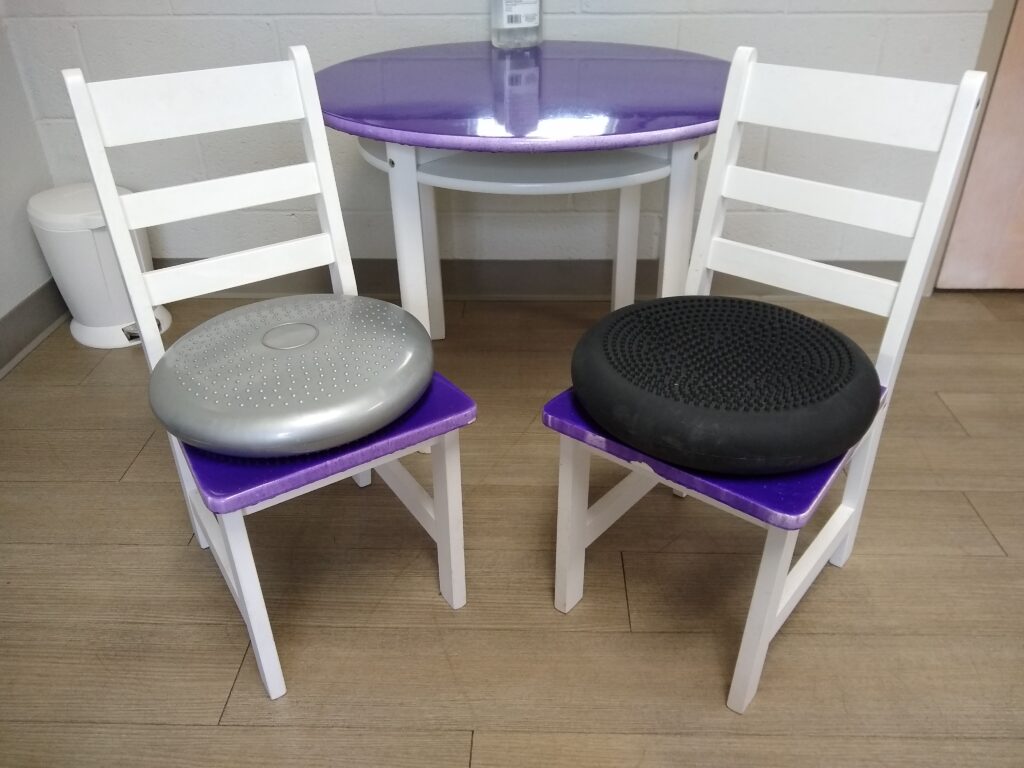 This is honestly the tool I use most often. These cushions are like magic for children who have trouble sitting still like those who have ADHD or are just more active. Each cushion has 2 sides: on is bumpy and one is smooth. They usually come with a pump to inflate them and I like to keep mine about half-way full. They're easy to find on Amazon and are usually about $20. I've had parents buy their own for taking their children to restaurants and they've reported lots of success with them.
Mermaid Pillows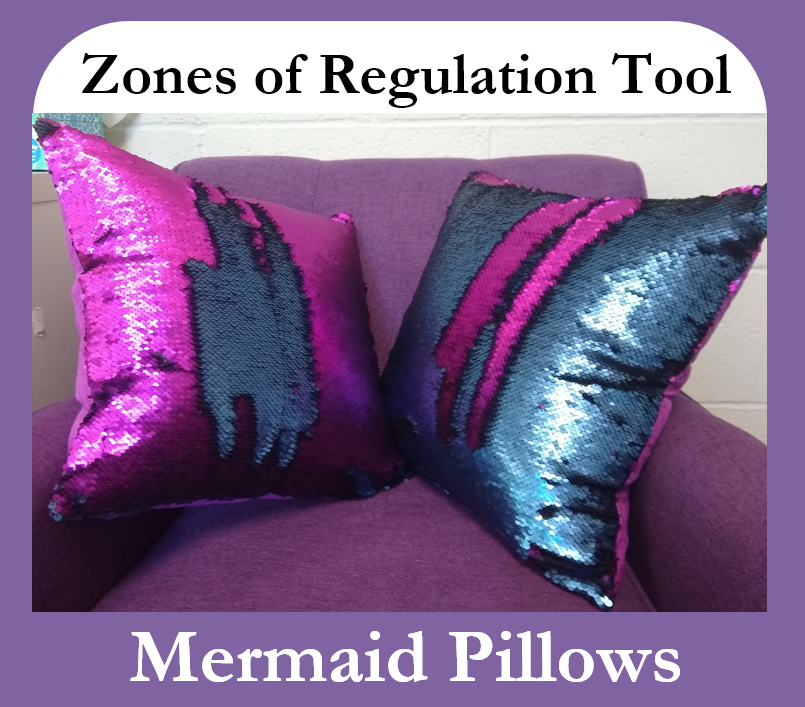 These pillow cases are the most popular zones tool I have. I bought these inserts to go with them. Every regulation tool can be used for any zone and they can have different effects on each child, but Mermaid Pillows seem to most often help kids who are in the yellow zone and feeling worried, overwhelmed, scared, or frustrated. To disinfect them I switch the sequins all in one direction, spray them, let them sit for at least 3 minutes, then switch the sequins to the other direction, spray them again, and let them dry. It takes them overnight to dry (even with our dry desert climate) but since I started disinfecting them only after my unvaccinated patients use them my life has gotten much easier.
Remote-Controlled Light
This nightlight has been great for following directions and regulation alike! Kids who are struggling to stay in the green calm zone benefit from it being on the "fade" function, which slowly cycles through all the colors.
BONUS: The light is really easy to disinfect.
Bubbles & Pinwheels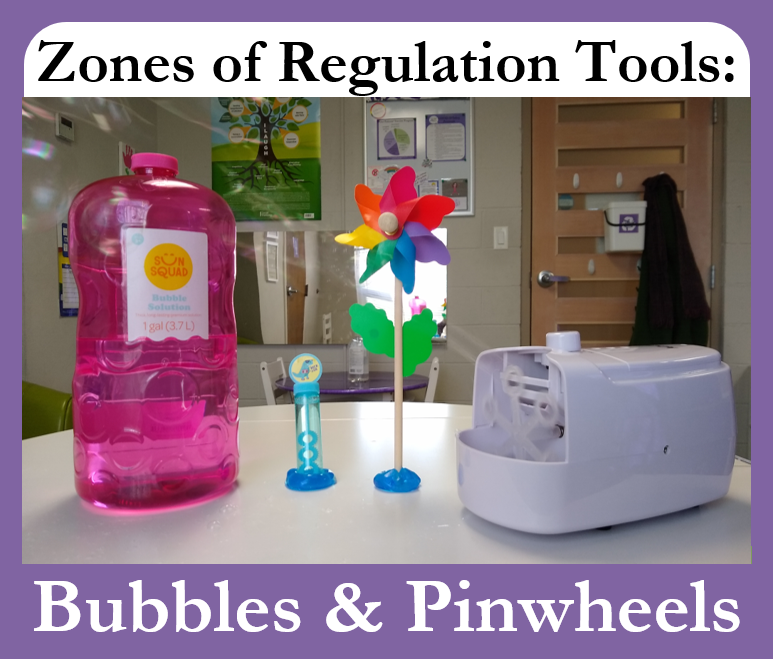 I'm constantly reminded that bubbles and pinwheels are therapeutic. Not just because children love them, but also because both blowing bubbles and pinwheels and popping bubbles forces deep breathing and mindfulness. I love using bubbles with children who are having difficulty staying in the calm and ready-to-learn green zone.
Since the pandemic started I've yet to find any research about the transmission of COVID-19 in bubbles. But just to be safe I either have parents blow the bubbles or use a bubble-blowing machine. While the kids love the machine it made the floor very slippery so I cut 4 of the bubble loops off.
These pinwheels have also been great for these techniques and are less messy!
The messiest of the lot is grab-a-bubbles, which is also my patients' favorite. I allow myself to run out of them once I get tired of finding them everywhere. I have perfected the technique of holding the bubble wand above the vial while blowing bubbles so that the sticky bubble juice drips into the vial.
Hot Cocoa Breaths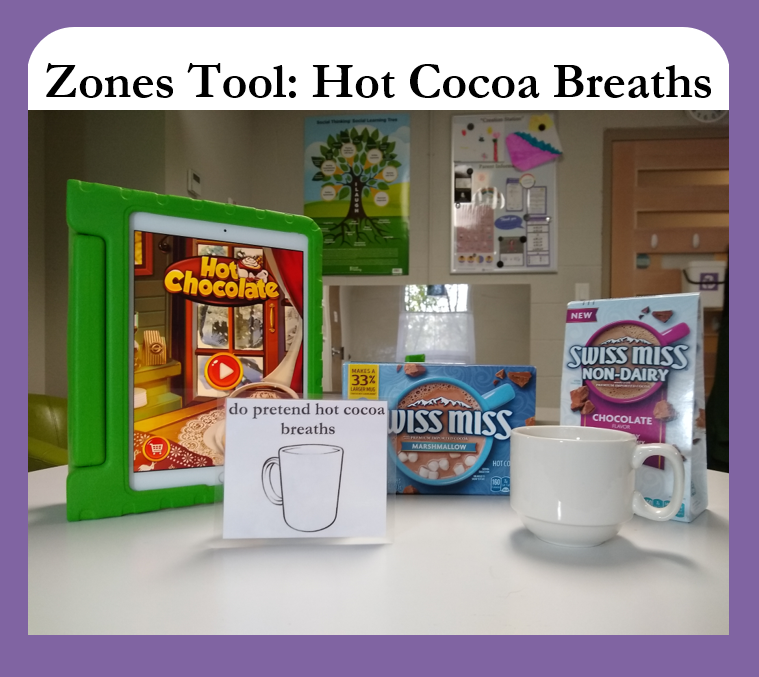 I'm loving this zones tool, which I got from here! I don't have chocolate markers (and some of my telehealth kids don't, either) so I just use a completely pretend version. To use this tool have a child pretend they're holding a cup of hot cocoa. Have them first take a deep breath in through their nose to smell it, then blow out through pursed lips to cool it off. Repeat this several times. As usual, I'll do this with the kids so they don't feel self-conscious about doing it alone. Pretend hot cocoa has been really helpful for my patients when they're feeling a overwhelmed with the pandemic and with stuttering. Like all zones tools it's best to practice while a child is calm and regulated so that they're better-able to try it when they become worried/sad/mad/dis-regulated.
For my patients who need a little more help with pretending or staying engaged in this technique I'm using the FREE "Hot Chocolate Drinking Maker" and "Hot Chocolate – Unicorn Food" apps before we start doing the breathing technique.
For my patients who are even more concrete and have difficulty pretending I have both regular and dairy-free hot cocoa. I always ask parents' permission before giving kids food or drink other than water. I'm glad none of the kids have started expecting hot cocoa during each appointment after using it.
Bonus: I like having hot cocoa on-hand to offer patients who attend their appointment on any day it snows.
Poster Companion
Once children are able to identify others' emotions based on their facial expression they can then learn to identify their own emotions. Once they're able to do that then they're able to start identifying strategies to help keep their behavior "expected" by addressing their emotions as they arise. This is called "regulation" and I love using the Zones of Regulation for these steps.
I bought this great zones poster from the Social Thinking Store and had it laminated at my local Lakeshore Learning center for a couple of dollars. For some kids I have them use dry-erase markers to fill in ideas for tools for each zone, but I recently made this poster companion to go with it and the kids are really liking it. I've also added one of these plastic envelopes at the bottom to hold all the options I have for regulation tools.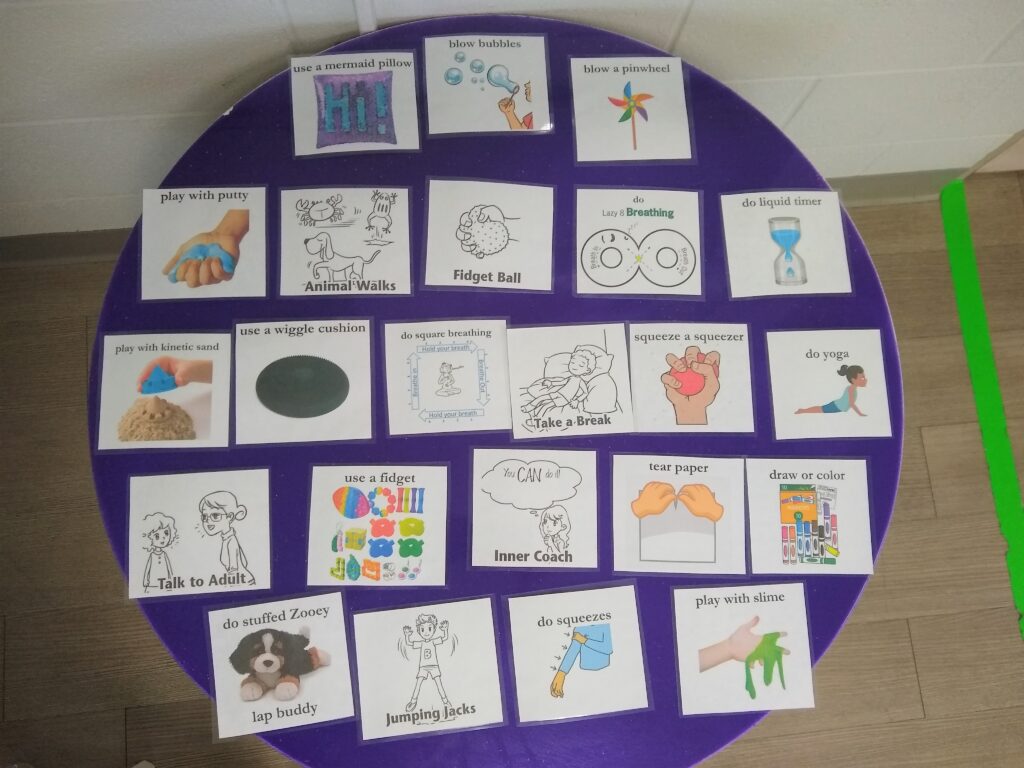 Tune-In Corner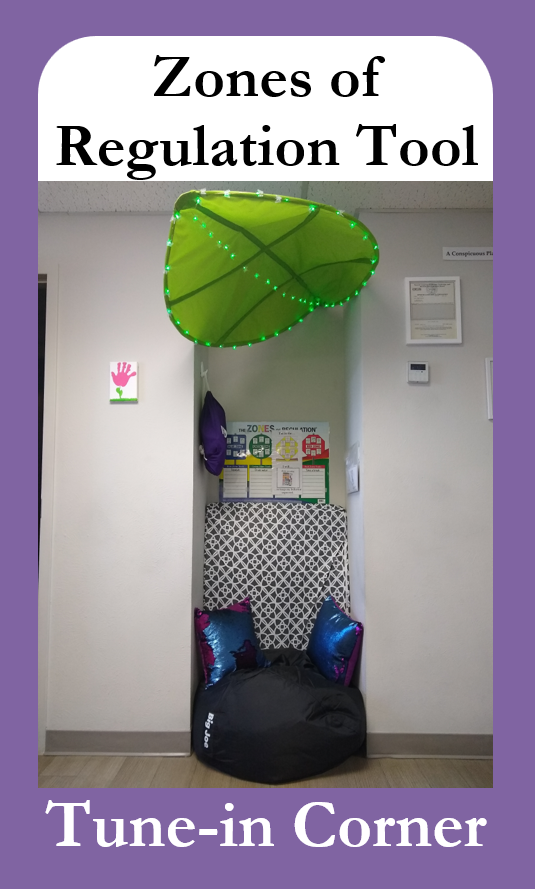 The "Tune In" time (instead of "time outs") is a part of the evidence-based discipline strategies from No-Drama Discipline by Dr. Daniel J. Siegel (professor of psychiatry) and Dr. Tina Payne Bryson (pediatric psychotherapist). I've combined this idea with the Zones of Regulation by giving my patients a place to calm down while sorting through their emotions, the causes of these emotions, and then identifying helpful responses for these emotions and the situations that caused them.
I got this disinfection-friendly beanbag, placed my mermaid pillows on it, hung my Ikea leaf canopy over it (more on that below) moved my Zones of Regulation poster (see above) and my FREE poster companion behind it, and hung my fidget bag above the poster. I ordered the bag customized off Etsy (the seller no longer makes them) and here's the variety pack of fidgets I started with.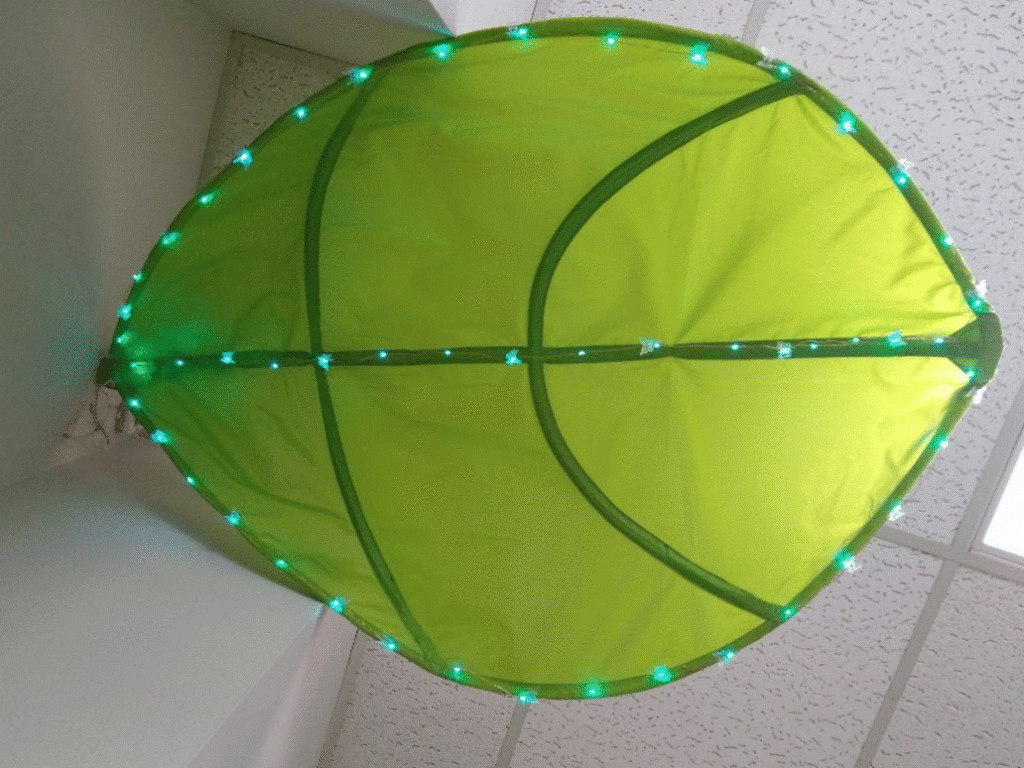 Here's the link for the canopy – I hung it by sewing fishing line loops through the front and back and then suspending the loops from the brackets made for suspended ceilings (here's a link to a similar product – mine were actually gifted to me). I then added these battery-powered and remote controlled lights by using these butterfly-shaped hairclips.
Quiet Tent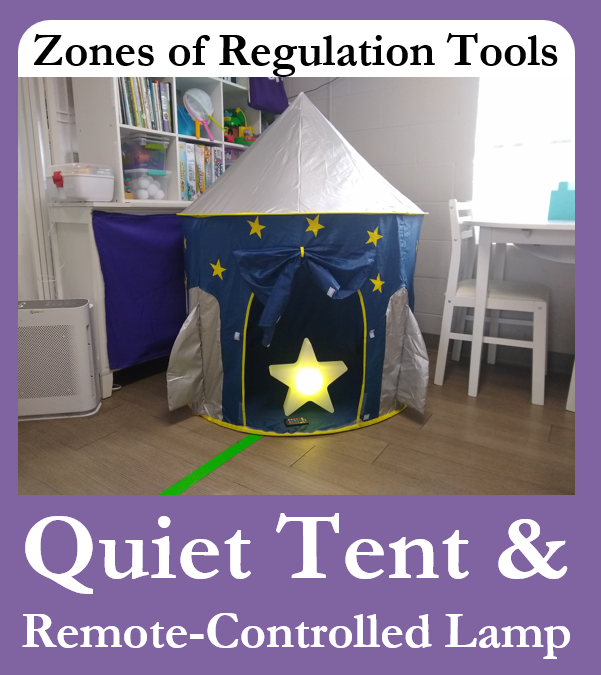 I'm noticing that children who were born shortly before the pandemic are taking longer to warm up to me than the 2-year-olds I've seen prior to "these unprecedented times". So I'm implementing the same rules I use for children who are demonstrating signs of anxiety, such as those with selective mutism: talking is rewarded, but not required. When the kids use their words they get positive reinforcement (verbal praise, access to a toy, a sticker, or even a high-five), but I don't tell them to "say" anything.
A great way to create a safe space for kids who are feeling anxious/worried/shy is with a quiet tent! I paired mine with the remote-controlled light I mentioned above and I'm seeing lots of progress!
I got this tent, which is fairly easy to take down and store during other appointments. The tent can also be used for social skills (such as greeting by saying "hello" when I make my face visible through a window or the door and saying "bye bye" before I move it out of sight) and following directions (such as telling the child to put a small toy in/on/under/behind/in front of the tent).
Until all my patients are vaccinated I'm reserving the tent for one patient at a time (determined by the greatest need).
Sensory Supports
Before COVID-19 I kept a sensory tub. I would change the filling every month and my patients would use it to help their regulation as we worked. Now that I'm more concerned about the kids sharing germs I've switched to individual containers of sensory supports. I label each child's sensory support and throw them away every 6 months.
Here are the my favorite sensory supports for kids to choose from…
Aaron's thinking putty small size – these don't get sticky like a lot of the slime packs.
Kinetic Sand Multipack – this one is very popular and I love how easy the sand is to clean up!
Here are some more sensory supports sold in individual containers to consider:
Somatosensory Training with Books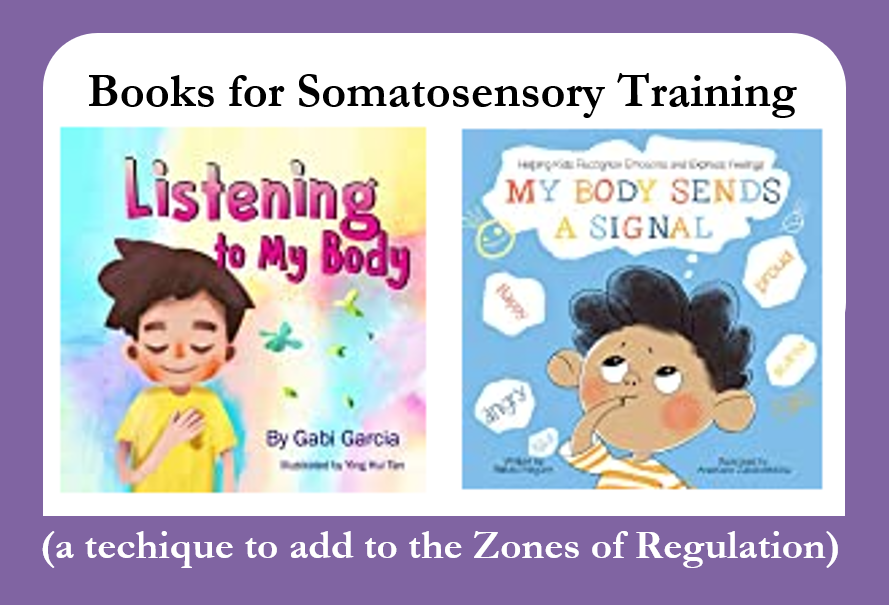 One of the things that helped me the most with my struggles with anxiety was somatosensory training. At its most basic, somatosensory training helps us learn to pay attention to the way emotions feel in our bodies. This then allows us to address these emotions and keep ourselves regulated throughout the day. I love Listening to My Body by Gabi Garcia and My Body Sends a Signal by Natalia Maguire to help kids learn about somatosensory training.
The other thing that helped me with my anxiety was NOT ignoring or "stuffing" my emotions. There are many books out there about taming (AKA "stuffing") emotions, but few about accepting them and honoring them. Studies show that I'm not the only one who suffered from increased anxiety as a result of trying to stuff it. So I love Marcy's Having All the Feels by Allison Edwards. I use it to help children learn that it's okay to feel angry, sad, or worried.
I've yet to find any books about honoring our emotions so I talk kids through that part. I often work on this only as a side-note to the Zones of Regulation and social skills. When I do work on honoring emotions I usually use these examples for each of the zones…
Red zone – setting boundaries. I use the phrase "making things fair" (staying away from things and people who are unfair, telling people when you don't like what they're doing, telling people how you feel when they do unfair things, etc.)
Yellow zone – making yourself safe (staying away from things that are unsafe, telling adults you feel unsafe, wearing a mask during a pandemic, etc.)
Blue zone – honoring what's important to you (making art, giving "thank you" cards, etc.)
Green zone – taking care of yourself (drinking water, eating healthy, exercising, etc.)
Side Note: For kids who are having trouble keeping their behavior expected I also use a lot of books by Michael Gordon like When I Lose my Cool . If you visit his book list here you can find the FREE kindle editions of a couple of his books, but they all advocate for "stuffing" feelings and label uncomfortable feelings like anger as "bad" so I tread lightly with these.
Want more ideas? Subscribe to my monthly newsletter!