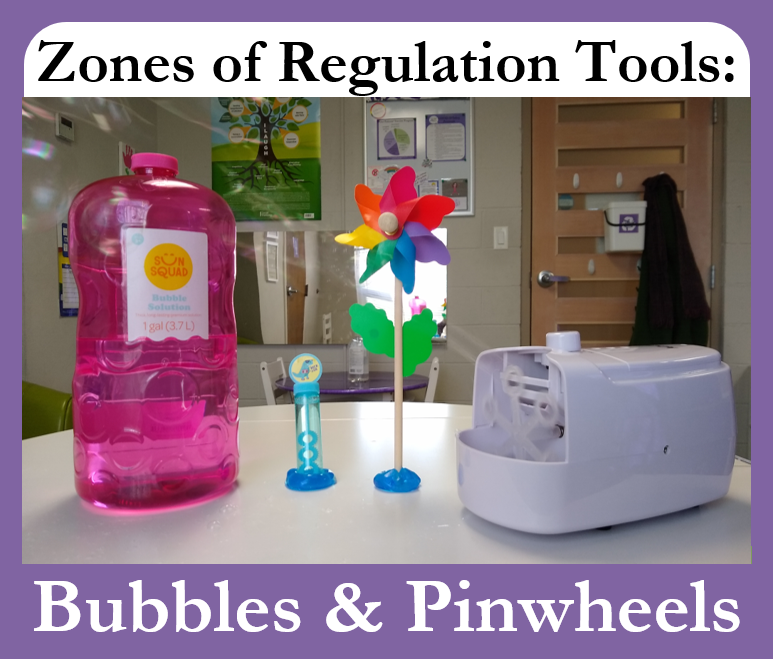 I'm constantly reminded that bubbles and pinwheels are therapeutic. Not just because children love them, but also because both blowing bubbles and pinwheels and popping bubbles forces deep breathing and mindfulness. I love using bubbles with children who are having difficulty staying in the calm and ready-to-learn green zone.
Since the pandemic started I've yet to find any research about the transmission of COVID-19 in bubbles. But just to be safe I either have parents blow the bubbles or use a bubble-blowing machine. While the kids love the machine it makes the floor very slippery so I place a yoga mat on the floor where the bubbles land.
These pinwheels have also been great for these techniques and are less messy!
My patients also love grab-a-bubbles, which can be caught and make a very loud "pop" sound. The only problem is that they're very messy. I have perfected the technique of holding the bubble wand above the vial while blowing bubbles so that the sticky bubble juice drips into the vial. I'll also find the bubbles still stuck to the walls, ceiling, and furniture months after using them.
Here are some more of my favorite Zones of Regulation tools.