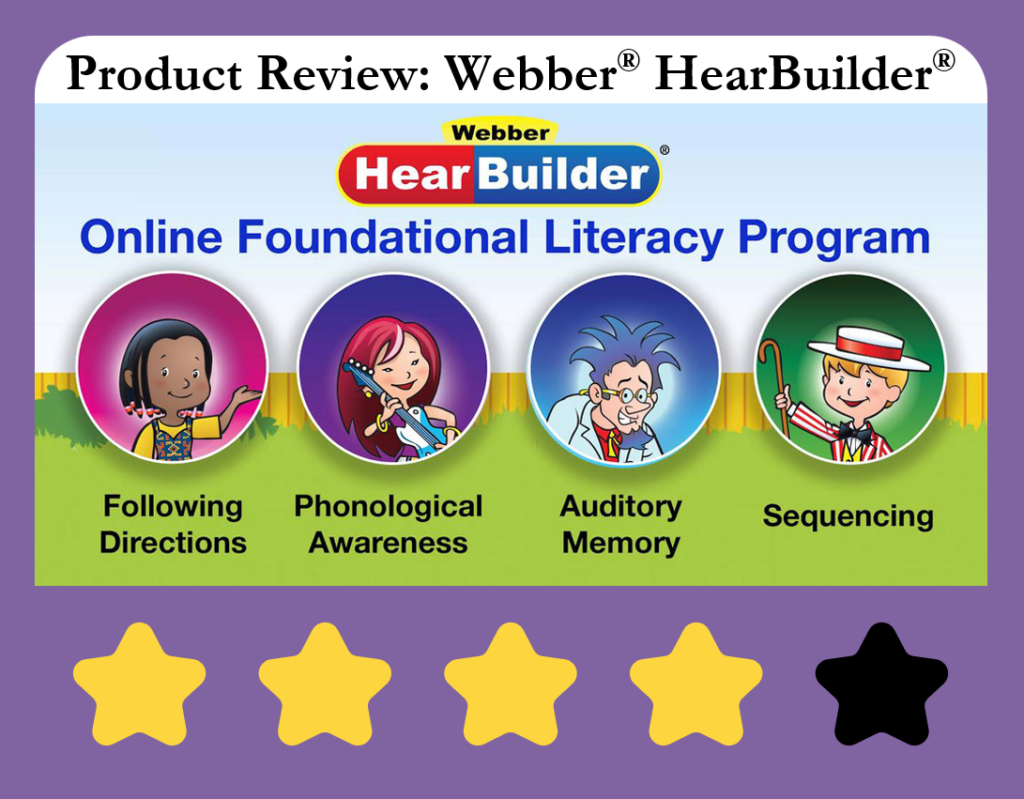 A few years ago I received a referral from a neurologist who had concerns about verbal memory. I did some research and found that, despite my lack of training in this area this is within an SLP's scope of practice. I also found that there wasn't a lot of evidence-based techniques for this area. The one exception is Webber® HearBuilder® so I decided to try it out and found so many uses for the whole suite!
The whole suite costs $199 per year for up to 20 patients/"students."
Applications
Children struggling with following directions can benefit from the HearBuilder®'s Following Directions suite. This suite breaks down following directions into a variety of types (temporal, sequential, qualitative, etc.) in a way I'm unable to do on-the-fly. The programs also take so many things into consideration that I hadn't thought of before using it, like which clause the prepositions are in.
Children with language disorders in addition to/caused by Attention Deficit/Hyperactivity Disorder (ADHD) benefit from lots of the suite. As the HearBuilder Auditory Memory and Following Directions games increase in difficulty they add distractions such as background noise and even objects moving in the background. Verbal memory is also a common deficit with ADHD. In addition, the "Closure" activity in the Verbal Memory suite is excellent training for kids who might get distracted and need to fill-in-the-blank as others are talking.
Children with Central Auditory Processing Disorder (CAPD) can also benefit from the suite. I attended an amazing presentation on CAPD from Velvet Buehler, M.A. CCC-SLP/A, at ASHA's 2015 convention. I wish I could take a whole semester on the subject because it was so much to learn! But a lot of the activities that Velvet Buehler recommends for various forms of CAPD are available through the HearBuilder® suite, including rhyming, phoneme blending, phoneme segmentation, phoneme deletion, syllable blending, syllable segmentation, and phoneme manipulation (all found in the Phonological Awareness suite).
Children with hearing loss can benefit from a couple parts of the suite. I've found the "Closure" activity of the Verbal Memory suite to be particularly helpful for children who can't always hear what others are saying and may need to fill-in-the-blanks. I've also found the whole Phonological Awareness suite to be helpful for these kids, too.
How to Use It
In-Person: Log into HearBuilder® on your tablet or iPad and hand the device to the child. You can then use the "How to Cue" advice below.
Telehealth: Either have the child log into HearBuilder® on their second tablet, phone, or iPad or you log in and share your screen with them. This latter option is more challenging for lots of kids because they have to not only understand the directions, but then tell you what to do. When I do this with following directions I occasionally make intentional mistakes before submitting the answers to make sure the patient is really comprehending the directions. Again, you can then use the "How to Cue" advice below.
How to Cue
Some of the levels have a "repeat" button – sometimes that's all the help kids need and I count this as "minimal support."
If the level doesn't have a repeat button and the child needs help I'll sometimes repeat the directions to the child (and have them repeat the level if they need me to do this for more than 20% of the items).
If a repetition doesn't help then I'll use some of the strategies the Verbal Memory games recommend with the repetition. This includes visualization ("close your eyes and imagine what they're saying"), visual reminders (like pointing to my hair when the directions talk about hair) repeating the directions (in whole or in part), singing the directions, writing down the directions, and more that I can't remember in one sitting.
I'll sometimes make visuals for specific tasks. The one I use most often is for the temporal directions when the start switching between "Before…," "Put…before…," "After…," and "Put…after…" This gets confusing even for me! So I made the visual below to help. If that isn't enough I'll hold up 1 finger as the computer says the objects that come 1st and 2 for the object that comes 2nd. It's not uncommon for me to repeat these levels for months before my patients memorize the patterns.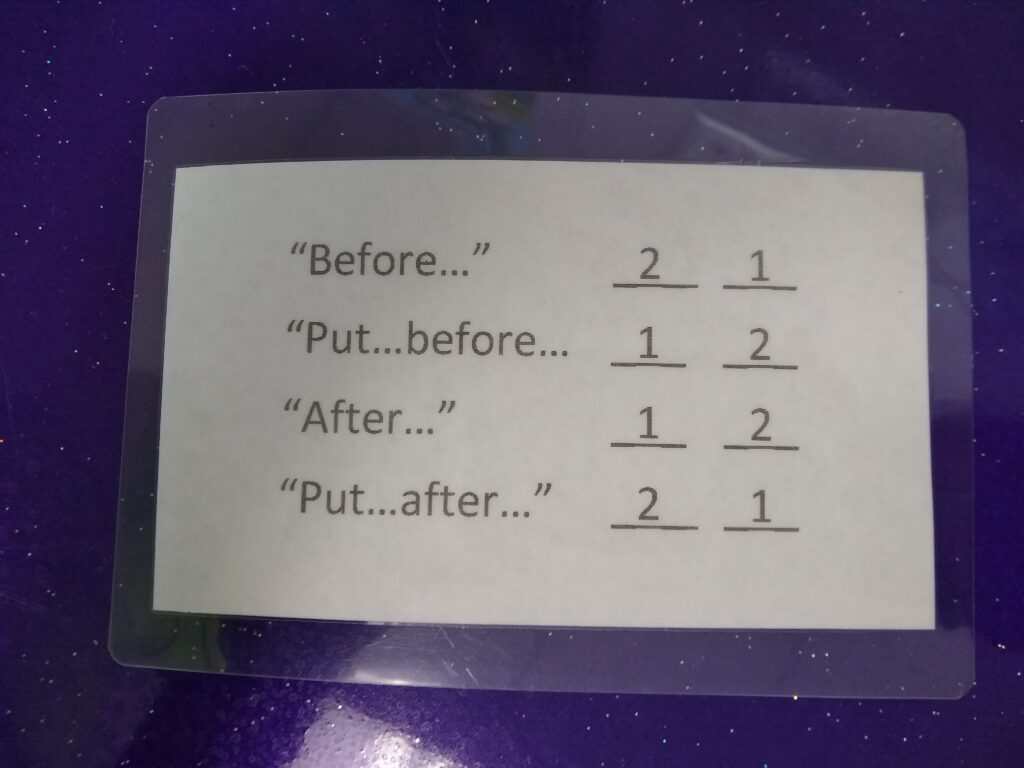 Positives
It saves me so much mental work! HearBuilder® takes so much into account that I'd never considered before, such as whether a list of words are related (which makes them easier to remember) and how much time passes between the directions being offered and the child following them.
It makes my treatment planning very easy.
It's very customizable. I can change so many parts of each program to fit each patient.
It's fun! I've had patients who loved the games so much they completed them all in mere months!
It's great for homework. I can send the link and login information to the family and the child can sign on to play between appointments.
It's evidence-based! This is actually the only activity I've found that helps with language memory and I've seen my patients' Language Memory Index (on the Clinical Evaluation of Language Fundamentals, Fifth Edition, or CELF-5) skyrocket! I've also had other providers ask me what I've done to help with our shared patients' verbal memory because they've seen marked improvements, too!
Negatives
Price: $199/year for 20 patients/"students." This is the only reason I didn't give the suite 5 stars – it's a little pricy, though I think it's completely worth it and I'm not sure how I could be as effective without it.