The Hanen Centre® Programs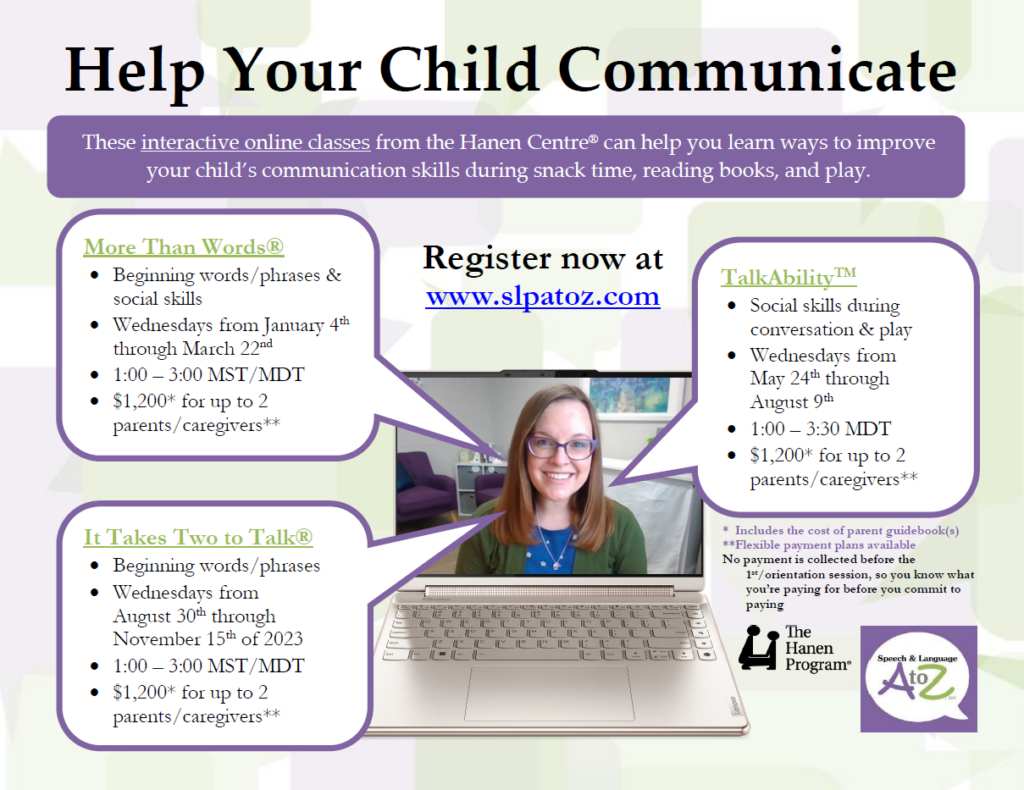 These programs have been clinically proven to improve children's communication skills by teaching their parents tools to use during everyday interactions like eating snack, reading, or playing.
Each program is 12-weeks long and includes 3 individual visits where the provider helps parents tailor the program's tools to their individual needs. Mrs. Amy now provides these programs online through interactive video conference calls so parents can attend from around New Mexico, California, and Maryland.
Insurers
We currently accept:
Presbyterian
Presbyterian Centennial
Cigna
United Healthcare
Medicaid
Self-Pay ($80 for each 45-minute appointment)
Please note: we're currently unable to accept new patients with Blue Cross Blue Shield
Evaluations
The best way to know whether a child can benefit from speech and/or language treatment is to complete an evaluation. The tests we use for evaluations include books and toys that are fun for children to complete. We try to make every evaluation as enjoyable as possible for children by including breaks to play, stickers, and/or a small toy as a prize for completing tests.
Treatment
Children learn best when they're having fun! Each treatment appointment is tailored to each individual child's strengths, struggles, interests, and preferences.
Conditions we treat:
Articulation Disorder
Phonological Disorder
Childhood Apraxia of Speech
Expressive Language Disorder
Lisp
Mixed Receptive-Expressive Language Disorder
Delayed Language Development
Autism Spectrum Disorder
Asperger's Syndrome
Hyperlexia
Selective Mutism
Childhood-Onset Fluency Disorder
Stuttering
…and more!
Treatment techniques we use: