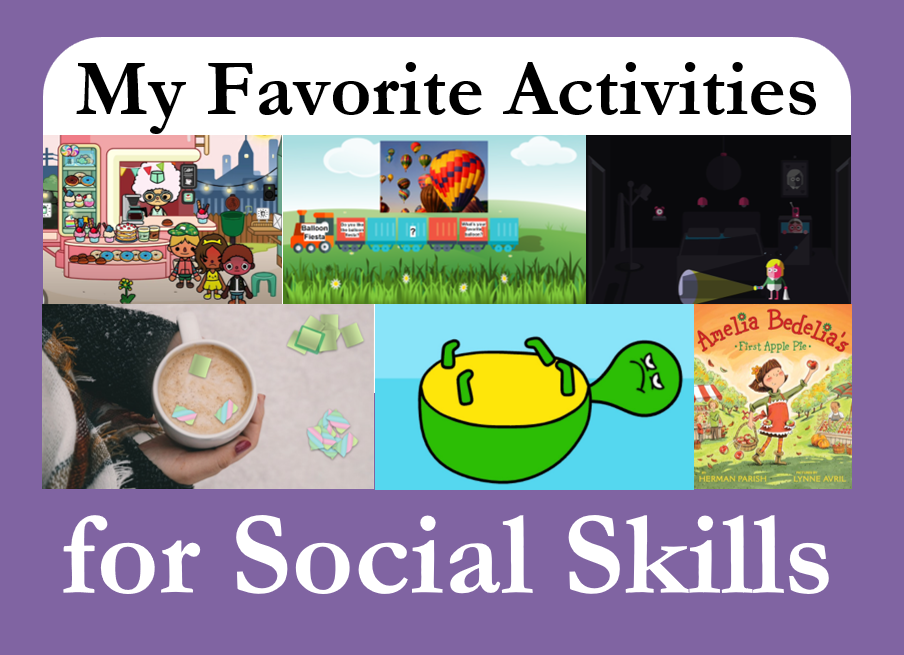 As children with social skills deficits try to navigate our highly-social world they must first learn the basics (eye contact, following eye-gaze, attending to others, etc.) and then learn to use those skills to identify others' emotions, inference the cause of the emotions, and problem-solve the situations causing these emotions. To target these skills I use a lot of different techniques and apps. Here are my favorites.
Toca Life World for Emotion Identification & Inferencing
I love using Toca Life World! The FREE version is all you need to target social skills and make your own social scenes. Before I found Toca Life World I had so many patients who had memorized the dozens of social scenes in my clinic and I needed a fast way to make new ones with novel social situations. I quickly found that Toca Life World can be used to create social scenes "on-the-fly" or in advance. Here's my tutorial on how I've been doing both.
And here are some more ideas for using Toca Life World in speech & language treatment.
Toca Pet Doctor for Emotion Identification & Inferencing
While Toca Pet Doctor is not free (it costs $3.99) it's great for working on social skills! Here's my tutorial on how I've been using it with more details on the least-to-most cueing hierarchy I use when I'm targeting these skills.
A special note: When inferencing the cause of emotions I prefer to ask "what made him feel sad?" rather than "why does he feel sad?" I find if I use the latter question the kids often tell me, "because he's crying."
Another special note: I love the Zones of Regulation and combining the framework of it while working on these skills!
Disney Shorts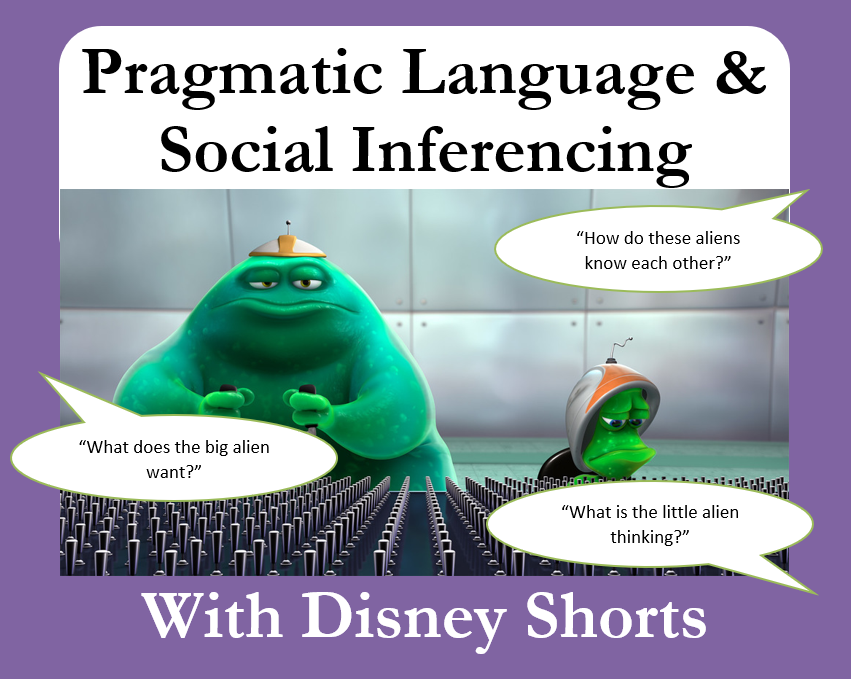 For a lot of kids who are learning to navigate our highly-social world, some of the most advanced skills are inferencing others' wants, needs, thoughts, and relationships. When I worked in a clinic with lots of people around I had lots of opportunities to practice these skills while using my colleagues and their patients as examples. Since I became a solo provider this has become much more difficult. Disney shorts have become one of the easiest ways to target these skills and they work well for telehealth, too!
Here's my growing list of pragmatic language questions and answers for Disney shorts.
And here are some more ideas for using Disney shorts in speech and language treatment.
Conversation Trains for Turn-Taking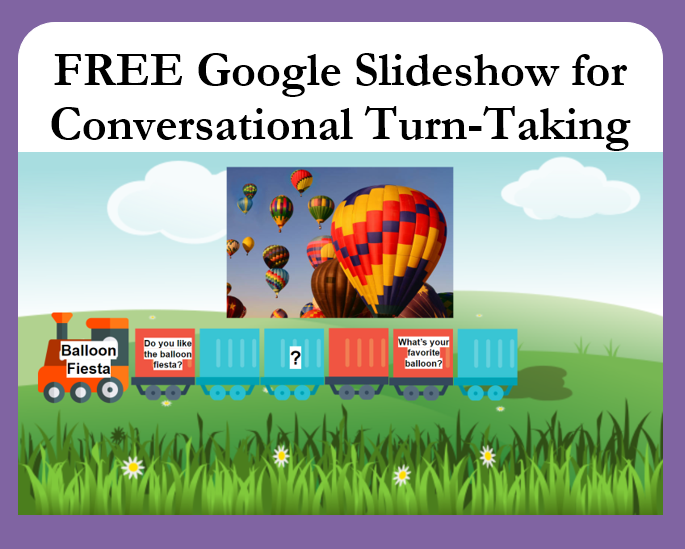 Years ago I read a blog about using trains as a metaphor for turn-taking during conversations. I can't find the blog, but it must have been written by Joel Shaul since he came out with a book with the same premise. I bought the book and it's great for talking kids through conversation, but not as helpful as the blog was for an SLP. I made this FREE google slides presentation to edit and then use to cue turns during conversation. This helps kids see what the topic is (so I can remind them to stay on topic), when it's their turn, when to ask questions, and even what questions to ask for kids who need more support.
During in-person appointments I have the train engine and cars printed and laminated. I write the topic on the train engine and then the kids build the train together. For kids who aren't taking enough turns or taking too many I'll give them a train car each time they talk, then have them count their cars at the end. Then I give them a goal like, "try again, but this time let's see if you can get the same number of cars as (your peer)."
For kids who are working on asking more questions I have some train cars with question marks and some with periods – I give each child the appropriate train car as they're talking and after a while I ask them to count how many of each they have. Then I'll give them goals like "try again and try to get as many question marks as periods." I haven't had to use these latter strategies online yet, but if I did I would use a slide with train cars off to the left and right and then keep the slideshow in "editing" mode for the kids to see it and add the cars in from the sidelines.
MultiTimer for Conversation Skills
For my patients who have mastered conversation trains (see above) I've been using this FREE app called MultiTimer. I involve the kids in making their timer – they get to choose the timer's color and symbol. This helps them see which timer is theirs and keeps them motivated to participate. One tap on a timer starts it, a second tap pauses/stops it, and a double-tap resets it. I'm finding that 30 seconds is the right time for the two patients I'm currently using this technique with and that I needed to add my own timer so I can occasionally do things like interrupt Zooey as she's talking and say things like, "I wonder what Jane's favorite balloon is" to cue her to ask Jane. When working with patients in-person I'll whisper these requests so that they other patient doesn't answer the question before the question is even asked, but I've yet to find a telehealth service that allows me to mute myself to specific patients. If the patients are able to read I'll type the prompt ("I wonder…" "Ask Jane…" or I'll even message Zooey with a script such as, "Jane, what's your favorite balloon?" depending on whether the patient is able to read the prompt silently then read selected parts aloud) in the chat section on Doxy.
Conversation Cocoa for Balanced Turns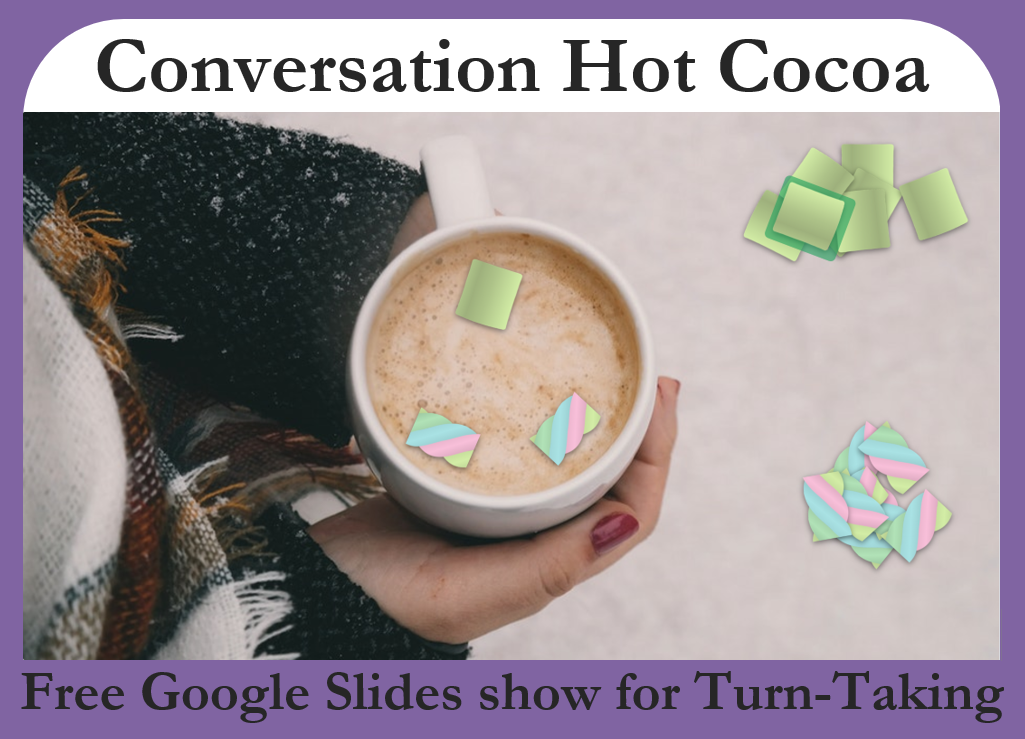 For my patients who master the conversation trains and then MultiTimers I start using a conversation hot cocoa slideshow – this shows them how many turns they're taking compared to their peer or me. I start by showing them the first slide, which has ideas for conversation on them. A patient gets to choose a topic. Then I switch to the second slide (in edit mode so they can see my changes) and they each get to choose their marshmallow color. Sometimes they need help getting started, but then I move a marshmallow into the mug for each sentence each person (including me) says. We each have an equal amount of marshmallows so the kids can see if they're using more or fewer than their peer. If they run out of marshmallows, but try to take another turn I'll say, "Oh, no – you're out of marshmallows! That means it's Jane's turn."
Toca Boo! for Social Inferencing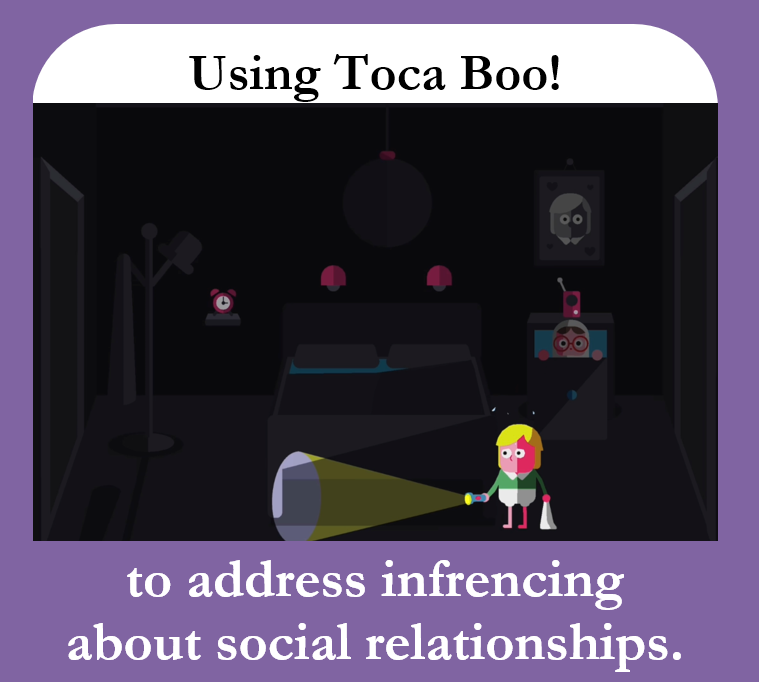 Toca Boo! is another not-free app from Toca Boca (it costs $3.99). But my patients love it! Here's my tutorial on how I'm using this app to target social inferencing ("How do these two people know each other?").
Amelia Bedelia Books for Idioms
I loved Amelia Bedelia when I was growing up in the early 90s! In fact, I often wonder if my love for these books is why I became an SLP. Amelia Bedelia has had a bit of a makeover since then: she's now a child! Honestly, that makes more sense!
If you've never read these books Amelia Bedelia struggles with idioms and homonyms and often makes mistakes because of this struggle. I've been using these books with my kids who struggle with idioms. After each mistake Amelia Bedelia makes I ask kids to reflect on what the person really meant. For example, in Amelia Bedelia's First Apple Pie her grandmother tells her to watch her fingers so Amelia Bedelia stares at her fingers and wonders why she needs to do this to make apple pie. This is when I stop and ask the patient, "Is that what Grandma meant when she said to 'watch your fingers'?" And then ask, "What did Grandma mean when she said that?" If kids still need more help I'll give them choices: "Did Grandma mean 'look at your fingers' or 'be careful with your fingers'?" It turns out it's not just me who loves Amelia Bedelia: my patients love her, too!
Side-note: I use the Amazon Kindle app to read books on my iPad both during in-person and telehealth appointments. This way I can easily disinfect the iPad between appointments and use the book again the same day (instead of having to wait 28 days between uses so that any viruses on the book's pages have plenty of time to dry).
Somatosensory Training with Books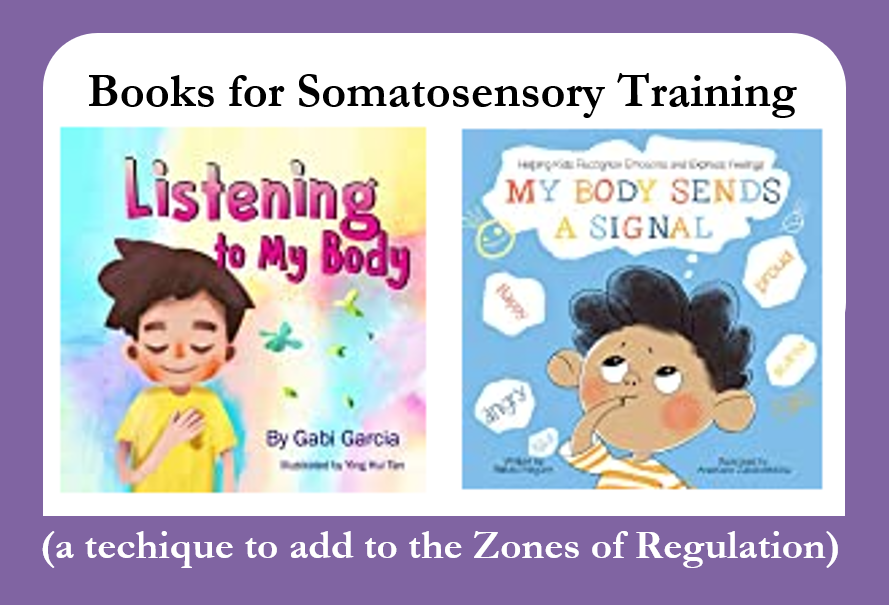 One of the things that helped me the most with my struggles with anxiety was somatosensory training. At its most basic, somatosensory training helps us learn to pay attention to the way emotions feel in our bodies. This then allows us to address these emotions and keep ourselves regulated throughout the day. I love Listening to My Body by Gabi Garcia and My Body Sends a Signal by Natalia Maguire to help kids learn about somatosensory training.
The other thing that helped me with my anxiety was NOT ignoring or "stuffing" my emotions. There are many books out there about taming (AKA "stuffing") emotions, but few about accepting them and honoring them. Studies show that I'm not the only one who suffered from increased anxiety as a result of trying to stuff it. So I love Marcy's Having All the Feels by Allison Edwards. I use it to help children learn that it's okay to feel angry, sad, or worried.
I've yet to find any books about honoring our emotions so I talk kids through that part. I often work on this only as a side-note to the Zones of Regulation and social skills. When I do work on honoring emotions I usually use these examples for each of the zones…
Red zone – setting boundaries. I use the phrase "making things fair" (staying away from things and people who are unfair, telling people when you don't like what they're doing, telling people how you feel when they do unfair things, etc.)
Yellow zone – making yourself safe (staying away from things that are unsafe, telling adults you feel unsafe, wearing a mask during a pandemic, etc.)
Blue zone – honoring what's important to you (making art, giving "thank you" cards, etc.)
Green zone – taking care of yourself (drinking water, eating healthy, exercising, etc.)
Side Note: For kids who are having trouble keeping their behavior expected I also use a lot of books by Michael Gordon like When I Lose my Cool .  If you visit his book list here you can find the FREE kindle editions of a couple of his books, but they all advocate for "stuffing" feelings and label uncomfortable feelings like anger as "bad" so I tread lightly with these.
Here are some more of my favorite Zones of Regulation tools.
Want more ideas? Subscribe to my monthly newsletter!