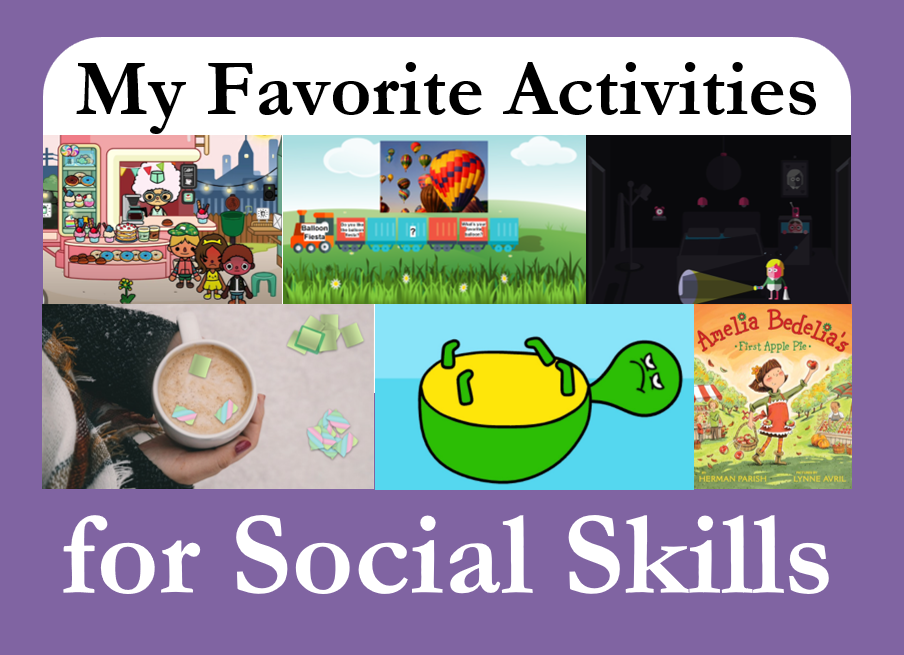 As children with social skills deficits try to navigate our highly-social world they must first learn the basics (eye contact, following eye-gaze, attending to others, etc.) and then learn to use those skills to identify others' emotions, inference the cause of the emotions, and problem-solve the situations causing these emotions. To target these skills I use a lot of different techniques and apps. Here are my favorites.
Here are some more ideas for using Disney shorts in speech and language treatment.
Here are some more of my favorite regulation tools.
Toca Life World for Emotion Identification & Inferencing
I love using Toca Life World! The FREE version is all you need to target social skills and make your own social scenes. Before I found Toca Life World I had so many patients who had memorized the dozens of social scenes in my clinic and I needed a fast way to make new ones with novel social situations. I quickly found that Toca Life World can be used to create social scenes "on-the-fly" or in advance. Here's my tutorial on how I've been doing both.
And here are some more ideas for using Toca Life World in speech & language treatment.
Toca Pet Doctor for Emotion Identification & Inferencing
While Toca Pet Doctor is not free (it costs $3.99) it's great for working on social skills! Here's my tutorial on how I've been using it with more details on the least-to-most cueing hierarchy I use when I'm targeting these skills.
A special note: When inferencing the cause of emotions I prefer to ask "what made him feel sad?" rather than "why does he feel sad?" I find if I use the latter question the kids often tell me, "because he's crying."
Another special note: I love the Zones of Regulation and combining the framework of it while working on these skills!
Want more ideas? Subscribe to my monthly newsletter!