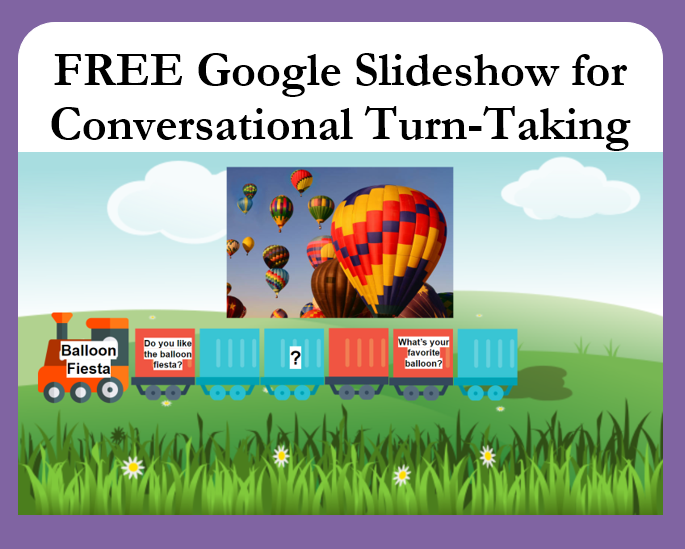 Years ago I read a blog about using trains as a metaphor for turn-taking during conversations. I can't find the blog, but it must have been written by Joel Shaul since he came out with a book with the same premise. I bought the book and it's great for talking kids through conversation, but not as helpful as the blog was for an SLP. I made this FREE google slides presentation to edit and then use to cue turns during conversation. This helps kids see what the topic is (so I can remind them to stay on topic), when it's their turn, when to ask questions, and even what questions to ask for kids who need more support.
During in-person appointments I have the train engine and cars printed and laminated. I write the topic on the train engine and then the kids build the train together. For kids who aren't taking enough turns or taking too many I'll give them a train car each time they talk, then have them count their cars at the end. Then I give them a goal like, "try again, but this time let's see if you can get the same number of cars as (your peer)."
For kids who are working on asking more questions I have some train cars with question marks and some with periods – I give each child the appropriate train car as they're talking and after a while I ask them to count how many of each they have. Then I'll give them goals like "try again and try to get as many question marks as periods." I haven't had to use these latter strategies online yet, but if I did I would use a slide with train cars off to the left and right and then keep the slideshow in "editing" mode for the kids to see it and add the cars in from the sidelines.
Once kids master these skills I move to using the multi-timer app for conversation.