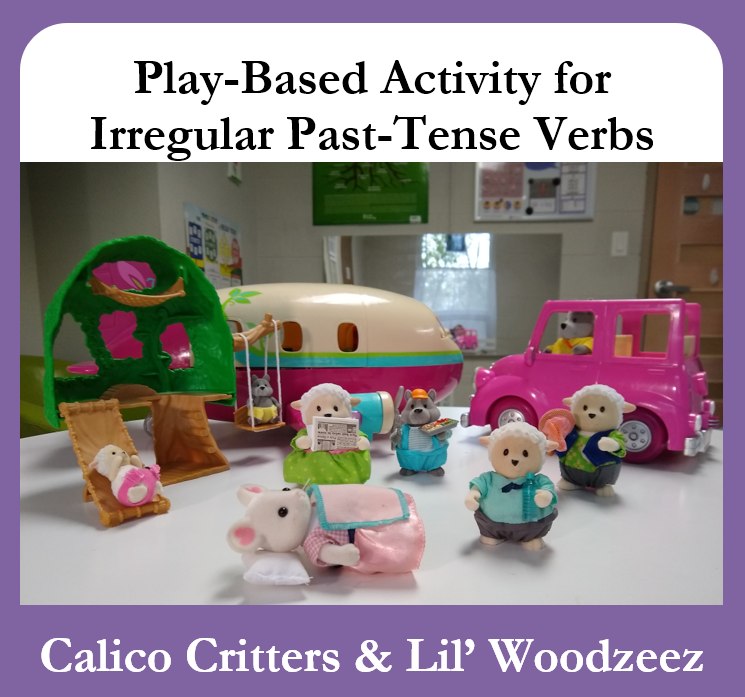 Last month I wrote about using Li'l Woodzeez and Calico Critters for irregular plurals. I also use them for irregular past-tense verbs. I use the Li'l Woodzeez camper set (cost: $34.99) for "drove," the Li'l Woodzeez airplane (cost: $32.99) for "sat," "read," "ate," "fell (asleep)," "slept," "woke," "stood," "flew," and "went," and the Calico Critters treehouse (cost: $13.39) for "slid," "hid," and "swung." Any of the family sets can be used for "ran." The kids use the camper, airplane, or Li'l Woodzeez Health Clinic (cost: $19.99) for "slept." The kids can use most of these targets with the off-brand Best Choice Deluxe Cottage Dollhouse (cost: $49.99).
Very similar to how I target irregular plurals, I'll let the patient play with the set for a while and keep an ear open for targets. Then I'll interrupt their play and ask, "What did they do?" or, to be more specific, "What did they do with the car?" If they have trouble with that I'll tell them, "They were driving and driving and now they're done. What did they do?" If that isn't enough I'll ask, "Did they 'drived'?" and if they still need more help I'll ask, "Is it 'they drove' or 'drived'?" and vary whether I say the correct or incorrect version last (which is the most likely response).
These targets are much easier logistically than the irregular plurals. Since so many targets can be used with so many of the toys I don't have to worry as much about having the right toys clean for the right patients.
Here are some more ideas for using Calico Critters & Li'l Woodzeez in speech and language treatment.
And here are my favorite activities for addressing irregular past-tense verbs.