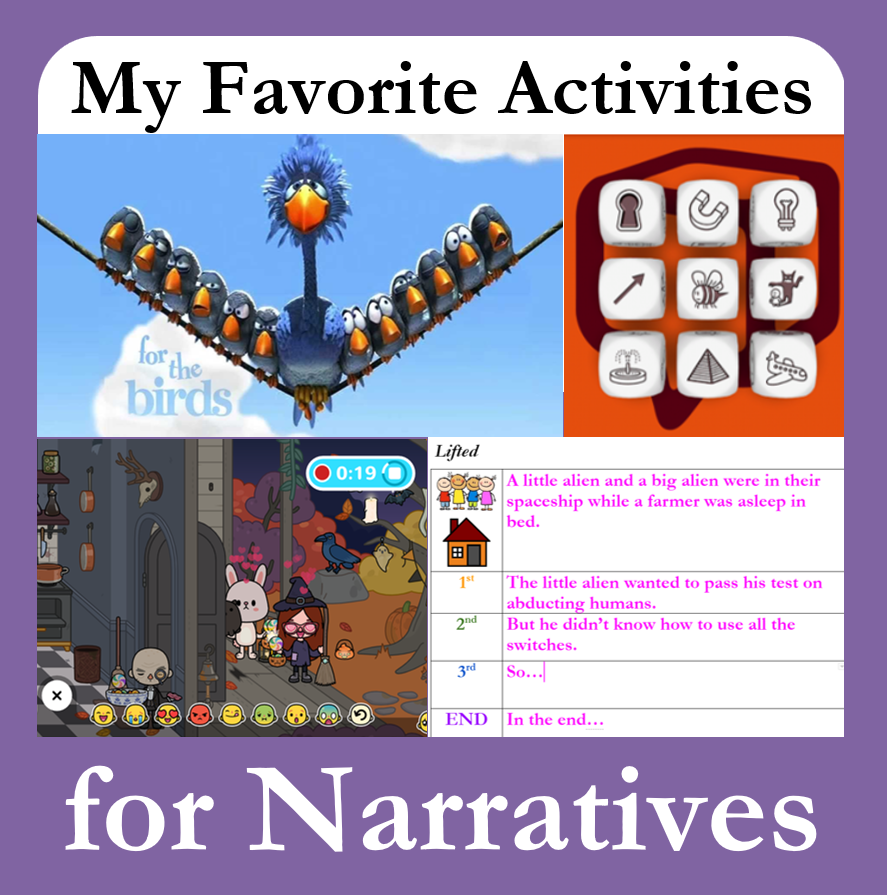 Whether I'm working on narrative creation, narrative retell, or using correct language structures during narratives I like to keep the activity as fun as possible. I find that this can be one of the hardest tasks for kids and giving them a fun way to work on it (with Disney videos, video games, or story cubes) really helps them get through it without feeling tortured.
Here are some more ideas for using Toca Life World in speech and language treatment.
Narrative Grammar/Retell Worksheet
I made this FREE digital narrative grammar worksheet based on this 5-finger story retell strategy. I love this strategy since kids always have their fingers with them and they can use them when telling telling their parents about their day. I use this worksheet with a couple of the activities I've mentioned below…
Disney Shorts for Narrative Recall
Disney shorts are the secret to my success with telehealth. When the word switched to online treatment due to the COVID-19 pandemic I started using these videos as an unstructured activity for grammar, pragmatic langauge, and narratives. Since then I've done lots of research about attention and brain waves during video calls and I find that it helps both my patients and me if we take a short video break half-way through our 45-minute appointment.
For years I struggled to find stories that were short enough to fit into appointments, yet had solid narrative structure. Disney shorts are perfect since they have a good narrative structure, yet they're often under 10-minutes. They're also perfect for telehealth!
To work on narratives with Disney short videos I watch the video with the child then switch over to my FREE narrative worksheet (from above). If a child needs help I'll either re-watch part of the video or give the child an incorrect response ("Did the little birds want ice cream?"). If that doesn't help then I'll give the child hints ("The little birds were happy before the big bird landed"), ask them questions ("When the big bird landed on the wire the little birds all got squished together – what do you think they wanted?") or give them choices ("Did the little birds want the big bird to go or to stay?").
Here are some more ideas for using Disney shorts in speech & language treatment.
5-Minute Stories for Narrative Retell
Before I found Disney shorts I used 5-minute stories for narrative recall. Most of these stories have good narrative structure, even though they take as little as 5-minutes to read. Of course, when the child is reading them they often take a bit longer, but sometimes my goal is for a child to recall a narrative that he/she reads on his/her own.
My collection of 5-minute stories started with the book by the same name ("Five-Minute Stories"). It's a beautiful hardcover book for only $9.99! Once the pandemic started and I needed 5-minute stories on my Amazon Cloud I bought a variety. The kids' favorite include 5-Minute Frozen ($3.99 for the kindle version), Thomas & Friends 5-Minute Stories: The Sleepytime Collection ($9.76 for the kindle version), and 5-Minute Racing Stories ($3.99 for the kindle version). The great thing about the kindle cloud versions is that I can use them with my patients whose parents continue to prefer telehealth and I can use them on my iPads for in-person appointments, too!
Rory's Story Cubes for Narrative Creation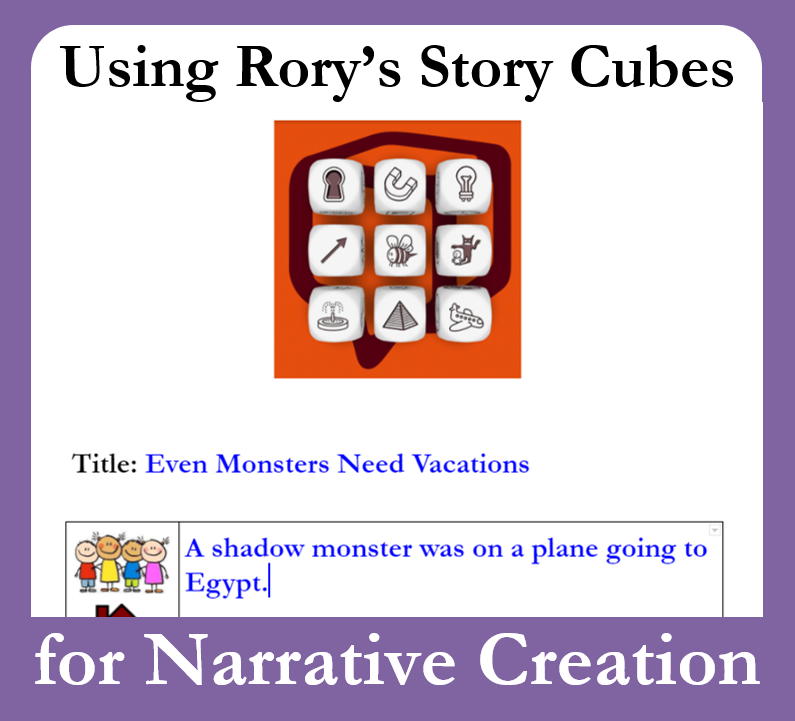 I started using Rory's Story Cubes with a child who was making the same narrative every time we did this activity and now I love them! You can get them as physical dice or apps from the Google Play or Apple stores. As you can see in the infographic above, I'll roll the dice, take a screenshot, then add it to the narrative retell worksheet I shared above. Then the child can use the dice for ideas for his/her story (and use complete sentences with correct grammar while he/she does it).
FREE Create-A Story Slideshow
I made this FREE "Create-A-Story" slideshow that you can download and use. I share it in "edit" mode (instead of "present" mode) and have the kids choose the setting from the left of the 1st slide and the characters from the right of the 1st slide. Then I copy-and-paste their selection to the 2nd slide and then use "duplicate" (in the right-click menu) on the 2nd slide to make the remaining slides. For some patients I'll also switch (using alt+tab if they're open in different windows or ctrl+tab if they're open in different tabs in the same window) between the slideshow and this FREE digital narrative grammar worksheet based on this 5-finger story retell strategy.
Want more ideas? Subscribe to my monthly newsletter!